Capture your iconic moments.
Z FC fuses classic design with Z series technology. Small size with big image quality. 4K videos with full-time Eye-Detection AF. A flip-out vlogger screen with live streaming capabilities. This is a camera you think you've seen before. But the performance is entirely new.
Classic Style, Modern Power
Capture timeless moments with the Nikon Z fc

Classic. Tactile. Modern.
Designed in the spirit of classic Nikon cameras.
Precision carved aluminum dials with engraved markings.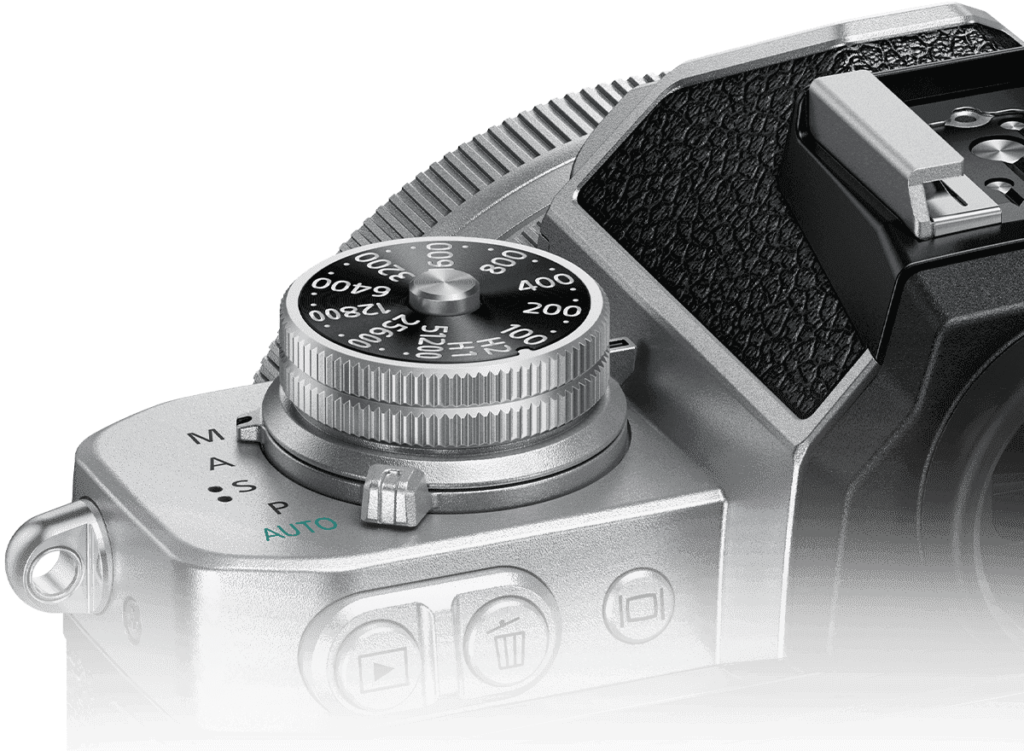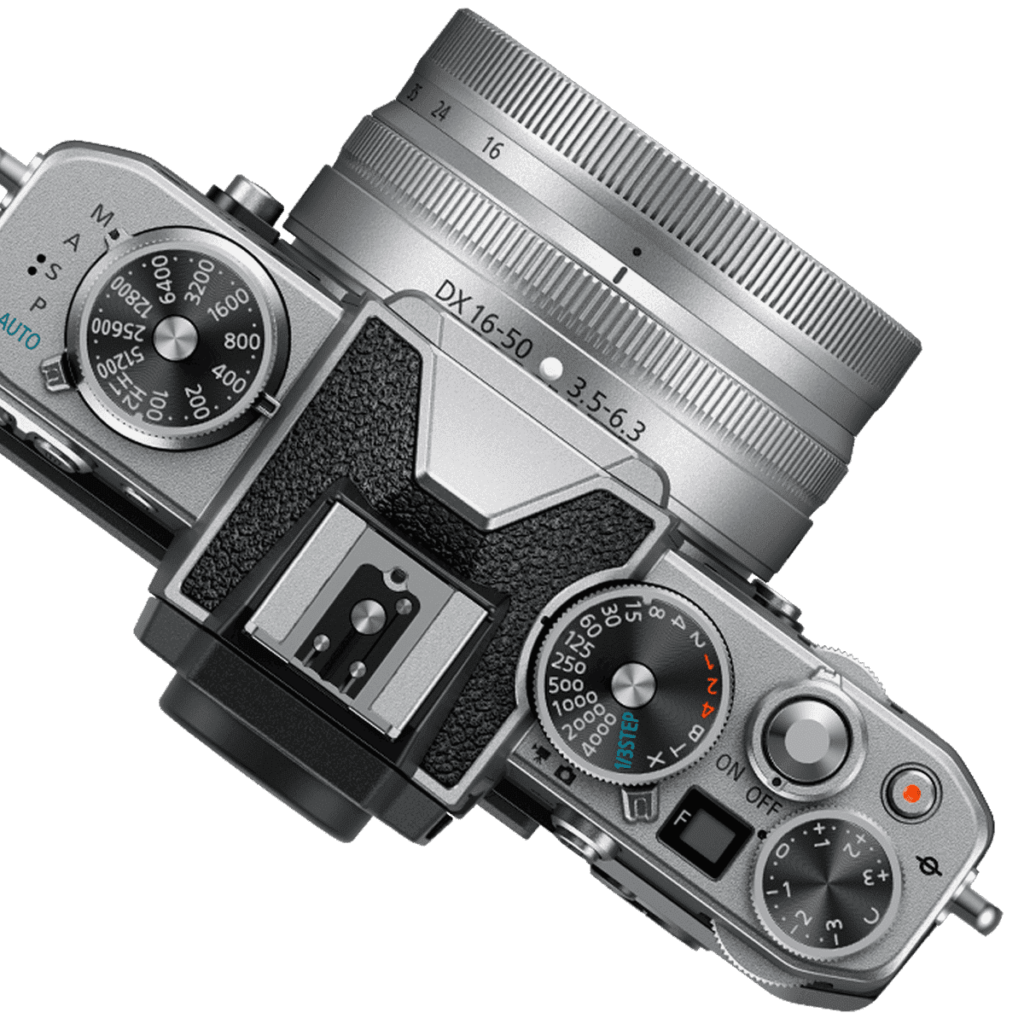 Mechanical controls for shutter speed, ISO and exposure compensation.
Vari-angle vlogger screen that hides away when you're not using it.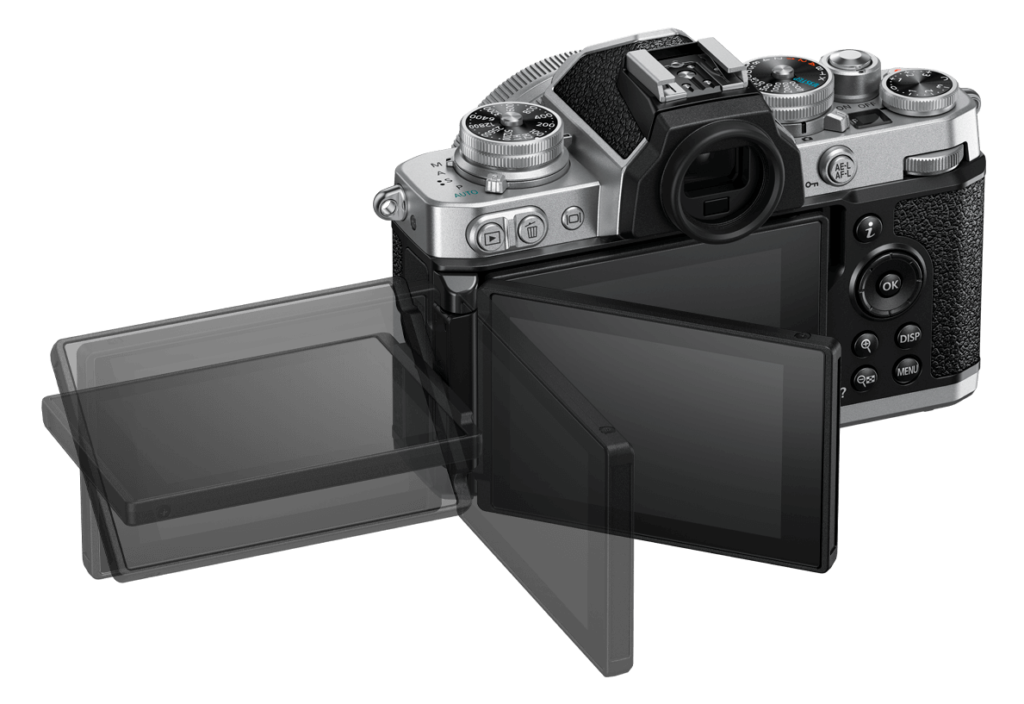 In addition to the classic black and silver, you can get the Z FC in one of seven premium exterior colors. Limited quantities are available. Get one before they're gone!

Cutting-edge Z series tech.
What sets the Z fc apart is the 20.9MP DX CMOS sensor paired with the EXPEED 6 engine and the light-gathering advantages of the wider Z mount. Together, they give you clean, professional-looking videos and stills, even in low light.
It all starts with the Z mount.
The Z fc is designed around Nikon's revolutionary Z mount, the widest lens mount of any comparable camera system. A wider mount means more light, and more light means more of everything good—sharpness, contrast, accurate focus, low-light performance and image quality.
The Z fc's sensor is practically covered in focus points—87% coverage to be precise. That means wherever your subject is within the frame, a focus point is locked on. Compose the way you want.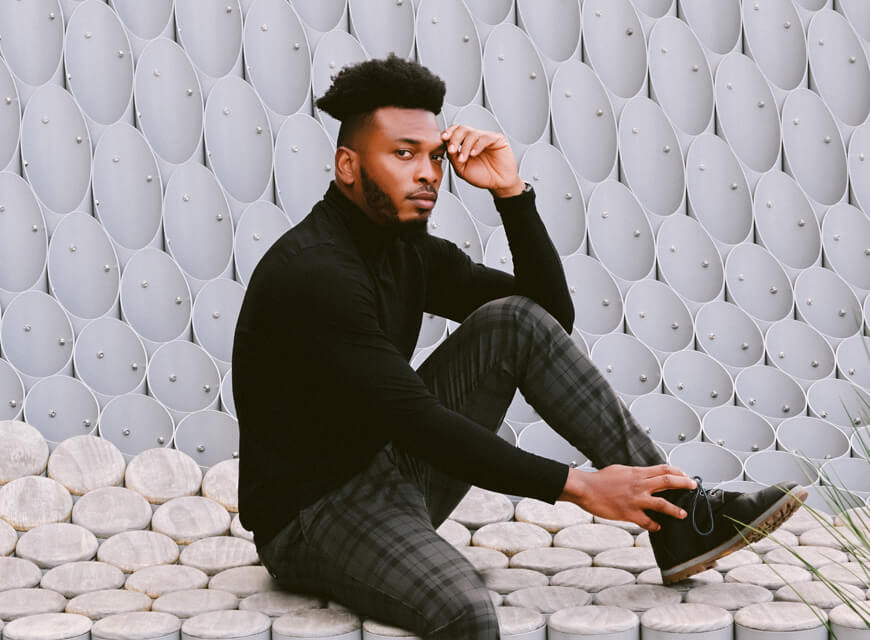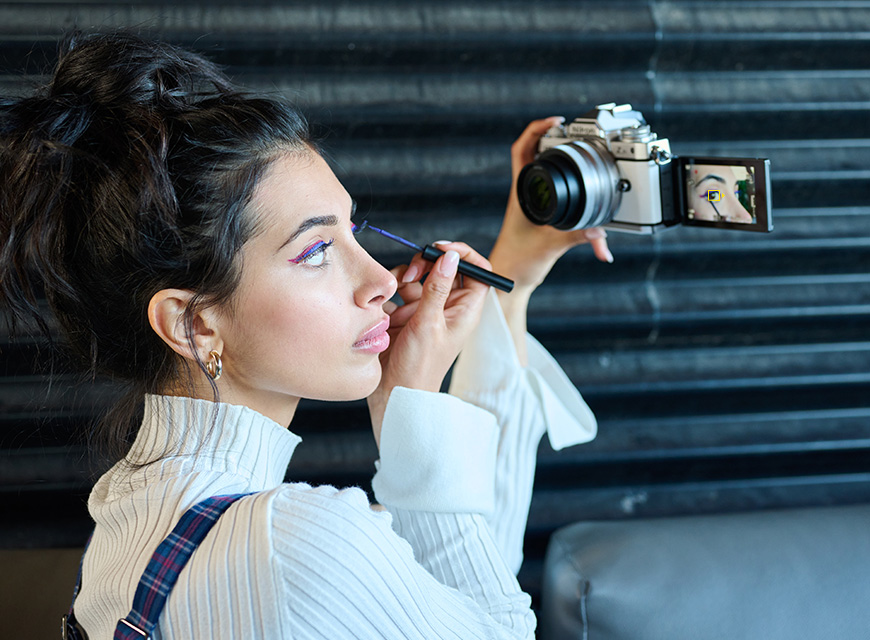 Nikon's intelligent Eye-Detection AF for video and stills quickly locks onto eyes—humans, dogs or cats—and follows them. This is especially useful when you can't be behind the camera, for first-person videos and selfies.
Get your shot. Whatever the light.
ISO sensitivity goes all the way up to ISO 51,200 (expandable to ISO 204,800) with superb sharpness, detail and clarity. Create after hours and in less-than-ideal lighting.
Add uniqueness to your videos and stills with 20 Creative Picture Controls, all visible in real-time while you shoot through the viewfinder or Vari-angle display. Now, filters are part of the vision rather than an afterthought.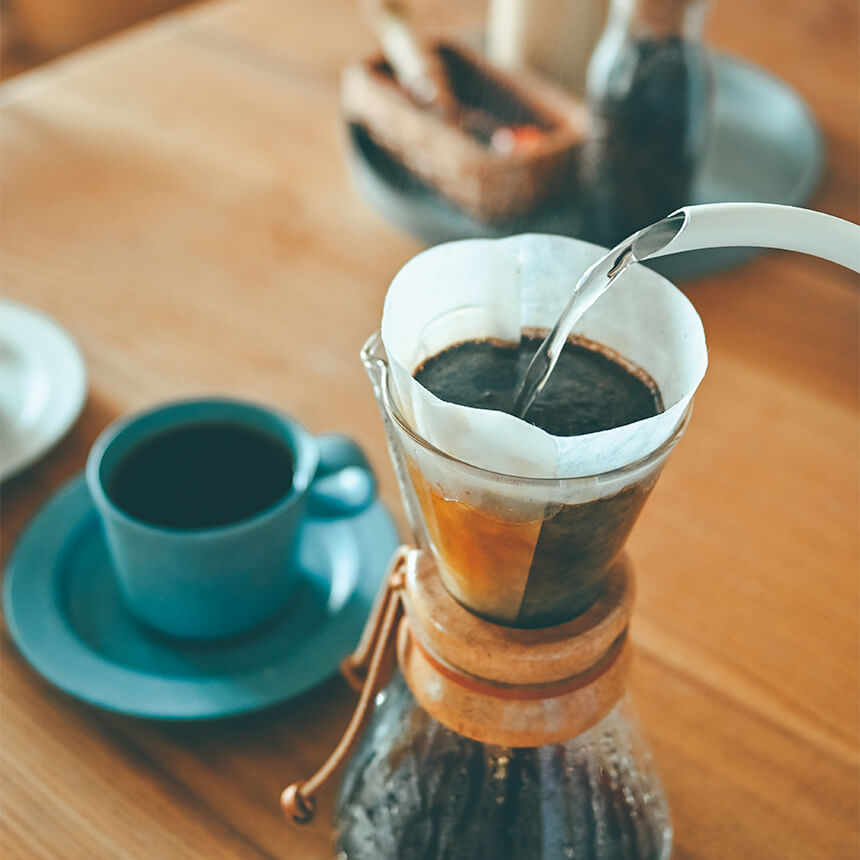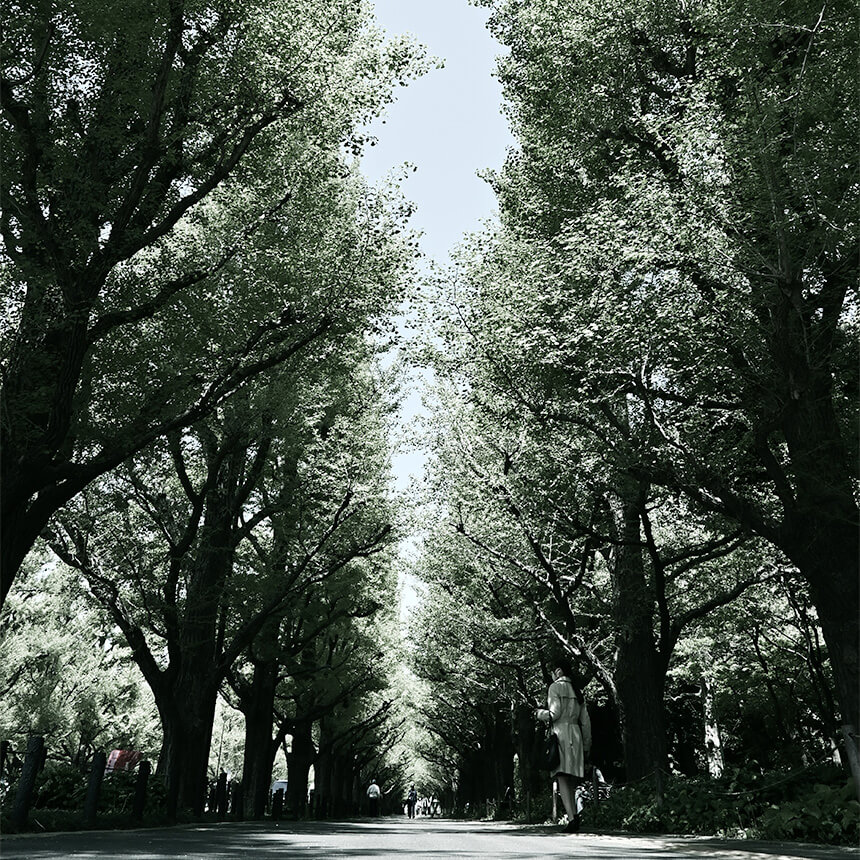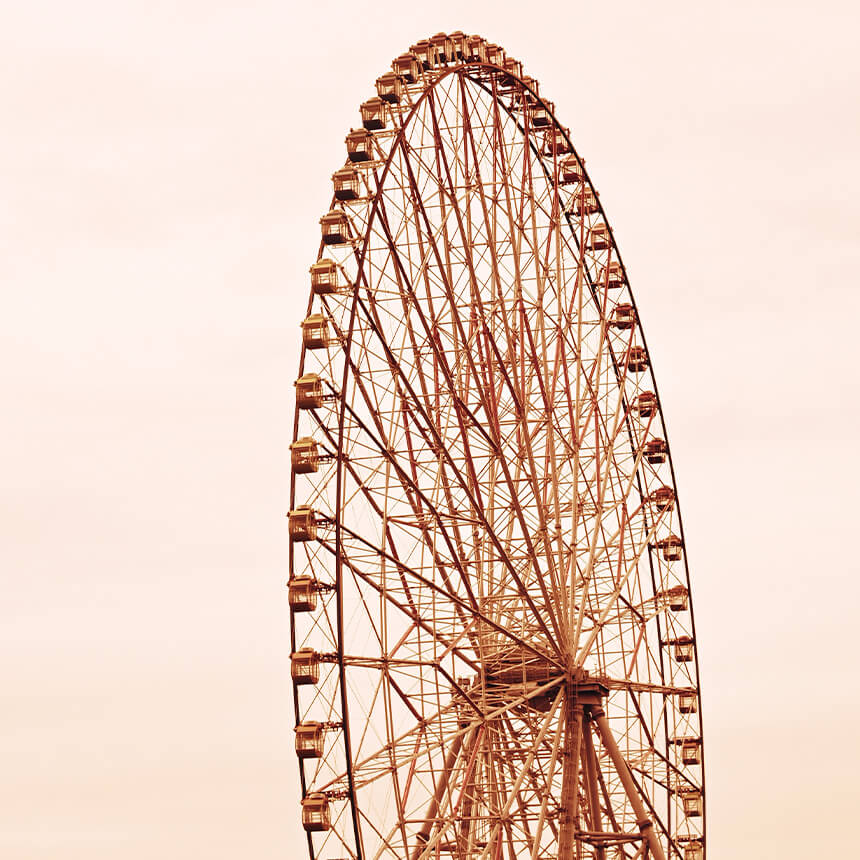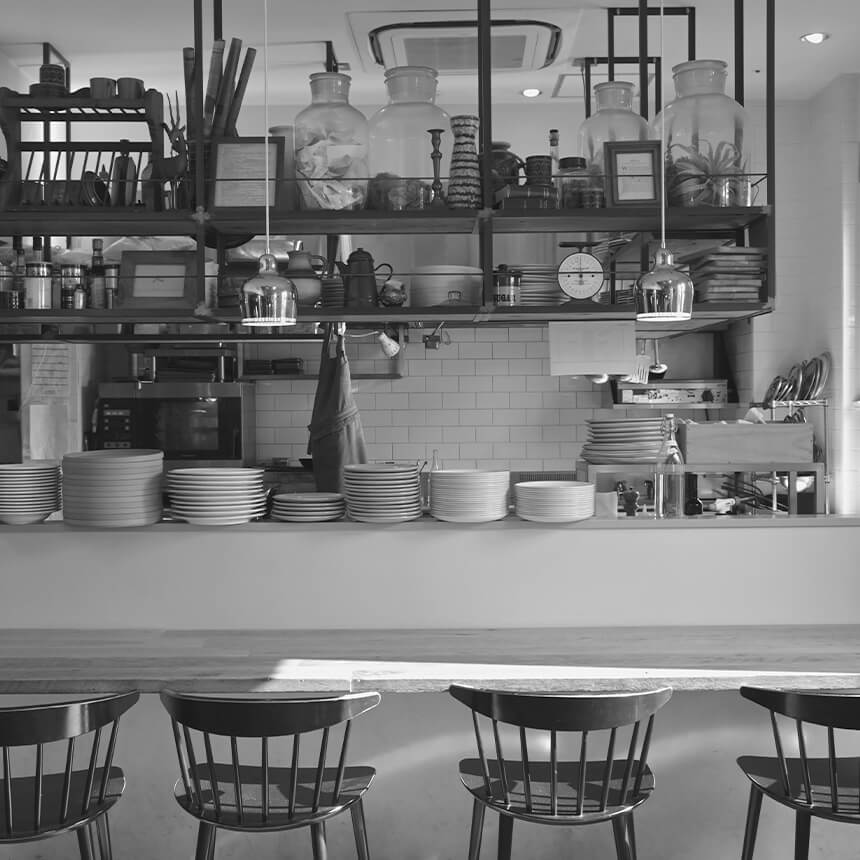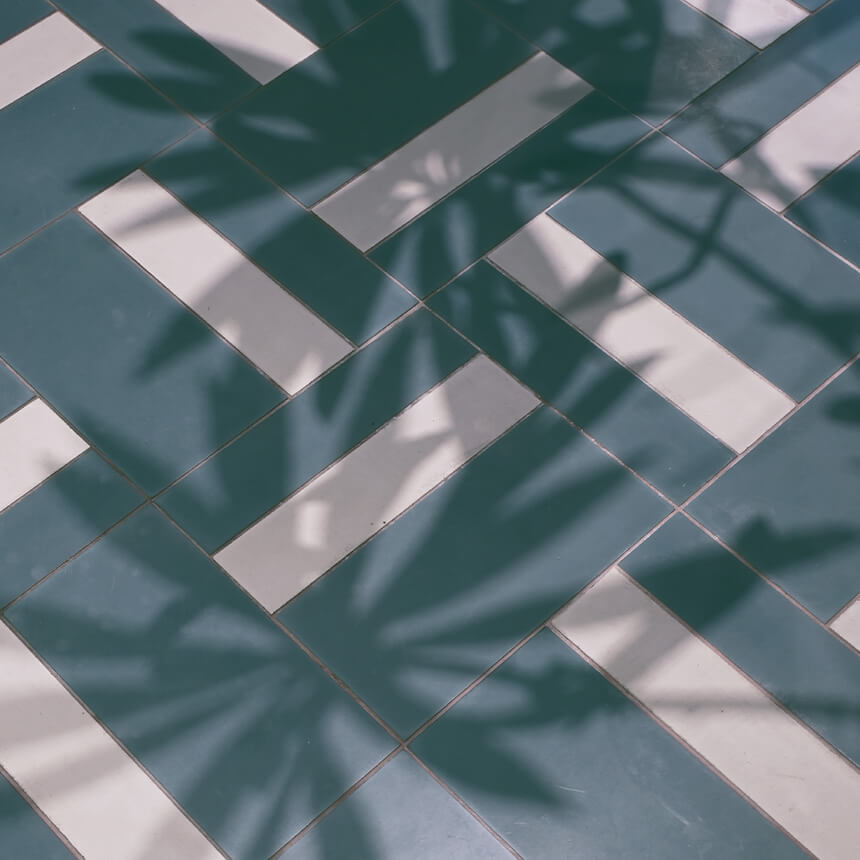 Get your shot. Whatever the light.
ISO sensitivity goes all the way up to ISO 51,200 (expandable to ISO 204,800) with superb sharpness, detail and clarity. Create after hours and in less-than-ideal lighting.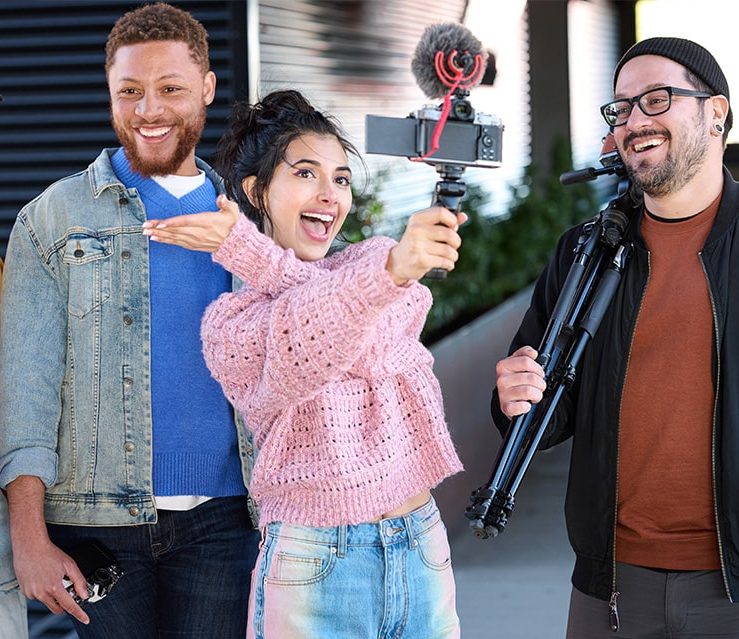 The vlogger monitor you've been waiting for.
The Z fc's Vari-angle display can face forward for easier vlogging and first-person recording. This activates self-portrait mode, bringing key camera controls to the monitor so you can conveniently touch and tap adjustments.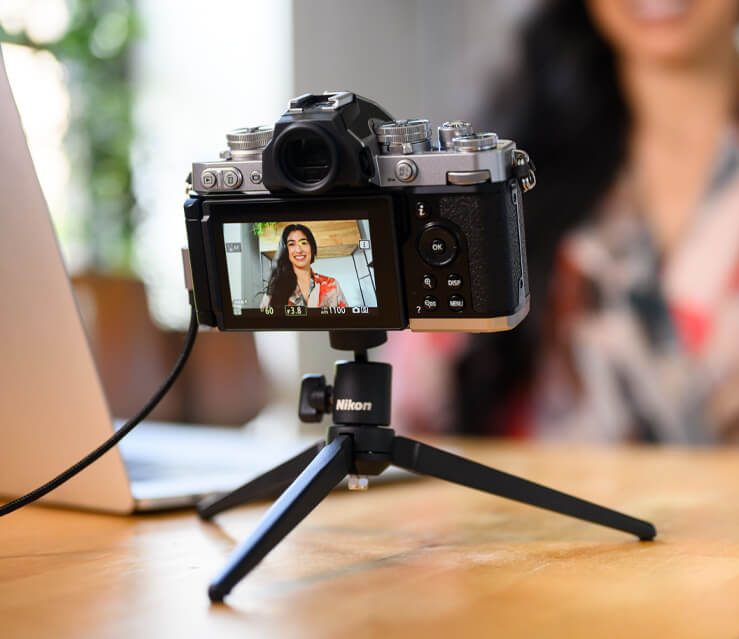 Live streaming and web conferencing.
Look your absolute best with the Z fc and a NIKKOR Z lens. Simply connect the camera to your computer with a USB Type-C cable (sold separately)—it provides power too—and compatible software like the free Nikon Webcam Utility. You'll get sharpness, clarity and flattering depth of field unlike a typical webcam.
Image transfers. Wireless
and automatic.
Pair your smart device to the Z fc from the SnapBridge app once, and your phone and camera are always connected. You can transfer videos and stills manually or set the app to automatically import every still you take, then edit and post your work with your favorite phone apps.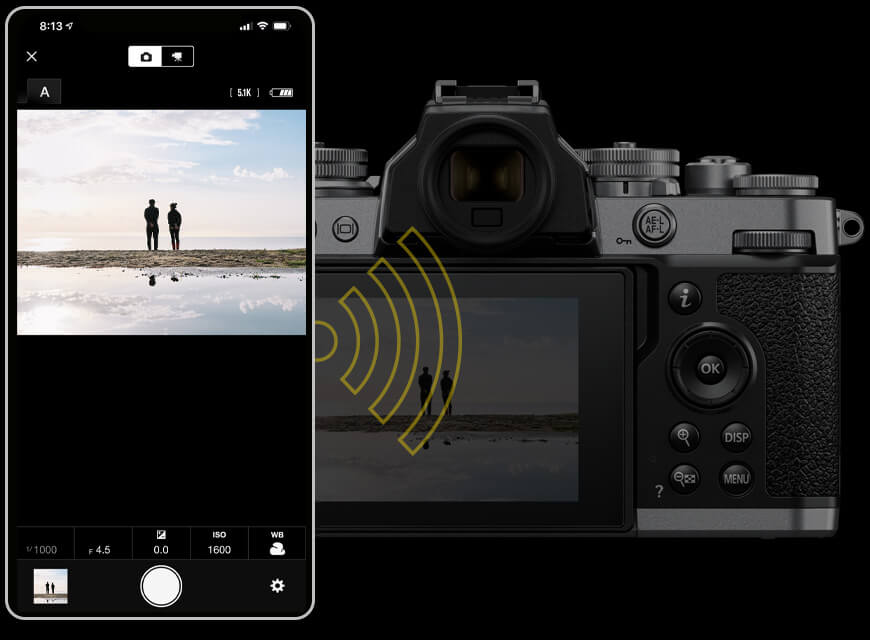 Grab the remote.
Grab the remote. When you can't be behind the camera, pull out your compatible smartphone and use it to control the Z fc. See what the camera sees, change camera settings like aperture and shutter speed, then take the video or still. Set-up is a snap. Open the SnapBridge app Tap Remote Photography Allow phone to switch to Wi-Fi® Start capturing videos and stills!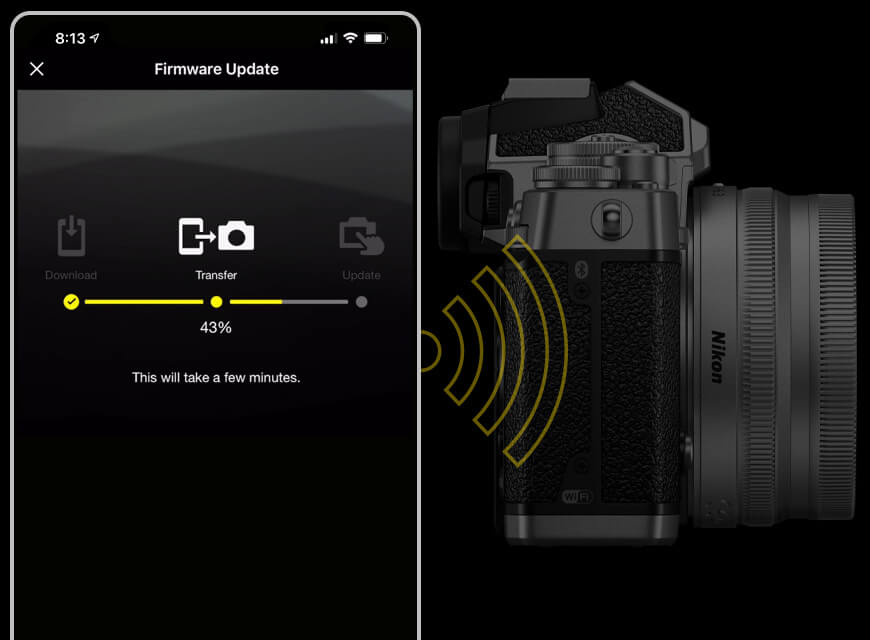 Always up to date.
SnapBridge wirelessly updates the Z fc's firmware to the latest and greatest. When paired, the app will notify you of any updates and send the firmware directly to your camera's memory card for a quick and easy—and totally wireless—install.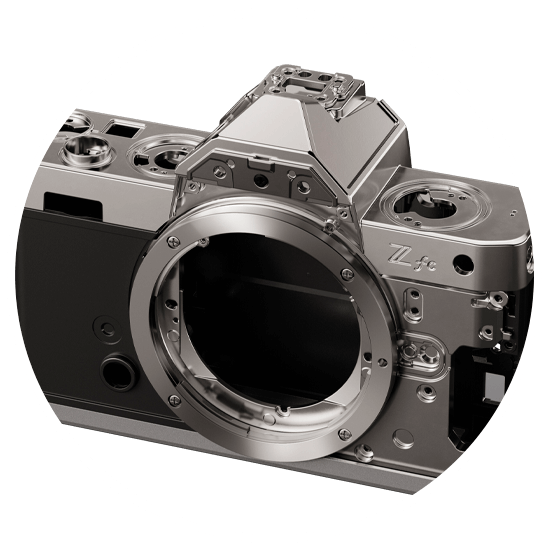 Magnesium alloy frame.
Tough, lightweight magnesium alloy frame protects the Z fc against life.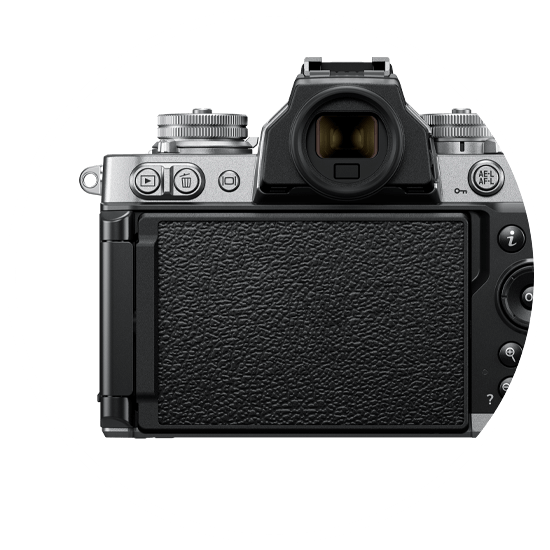 Hideaway touchscreen.
When you don't need the touchscreen LCD, it's safely protected within the camera.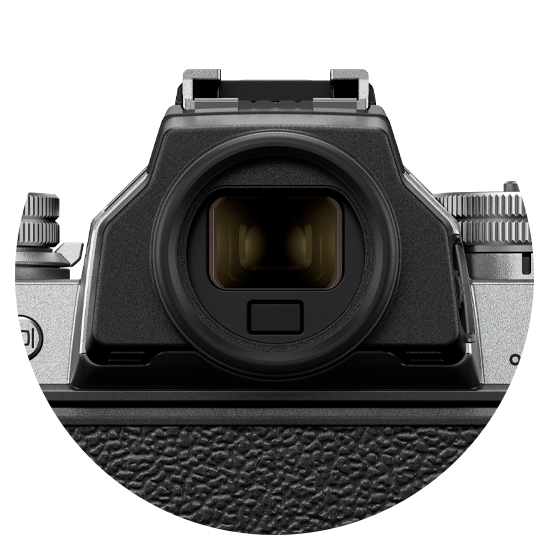 Classic round eyepiece.
OLED viewfinder with 100% frame coverage. 1.02x magnification. Real-time preview of exposure, settings and effects.
Auto mode with Nikon intelligence.
Prefer to let the camera determine the best exposure settings for your situation? Switch the camera to Auto and Nikon's serious onboard intelligence will take over for you.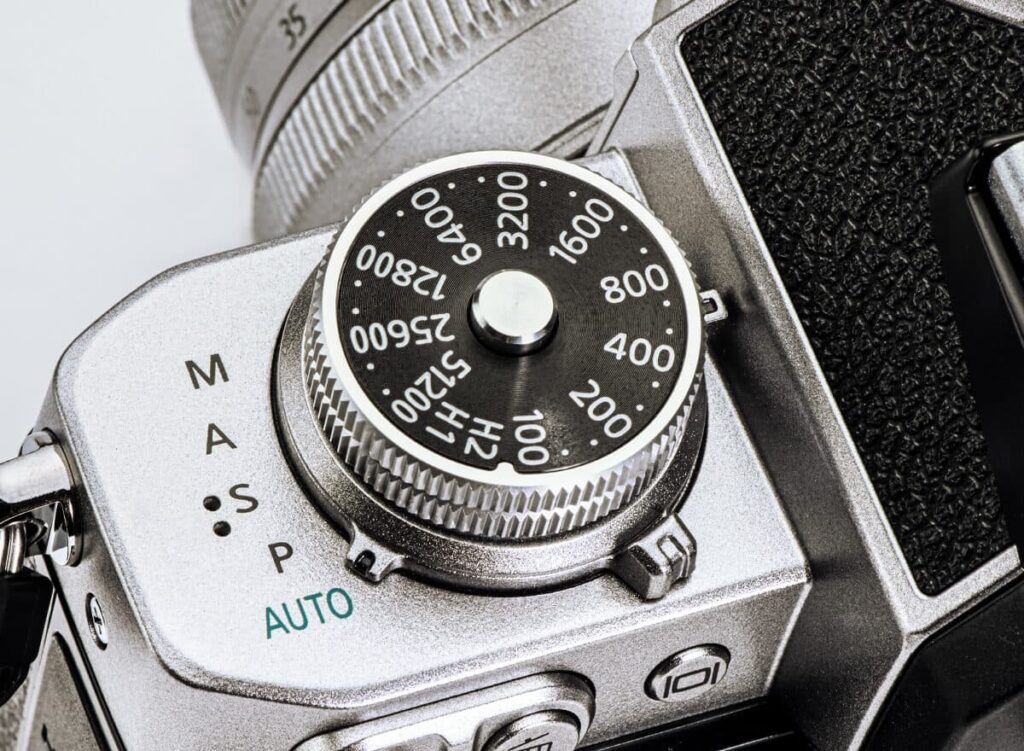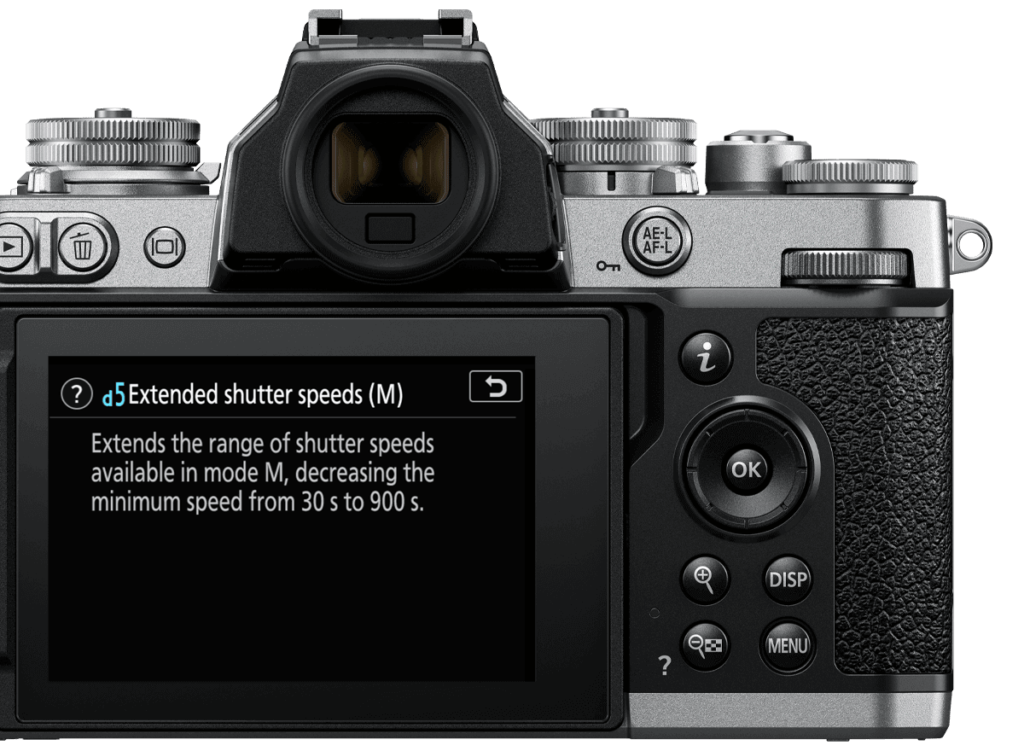 Help at the touch of a button.
Not sure what a setting does? Just tap the (?) button and a brief
explanation will pop up in the viewfinder or on the Vari-angle display. It's like having a quick reference guide built into your camera.
Assign the menu items you use most to the i-Menu. Create separate i-Menu settings for video and still modes. You'll have a one-click dashboard of the settings you rely on most.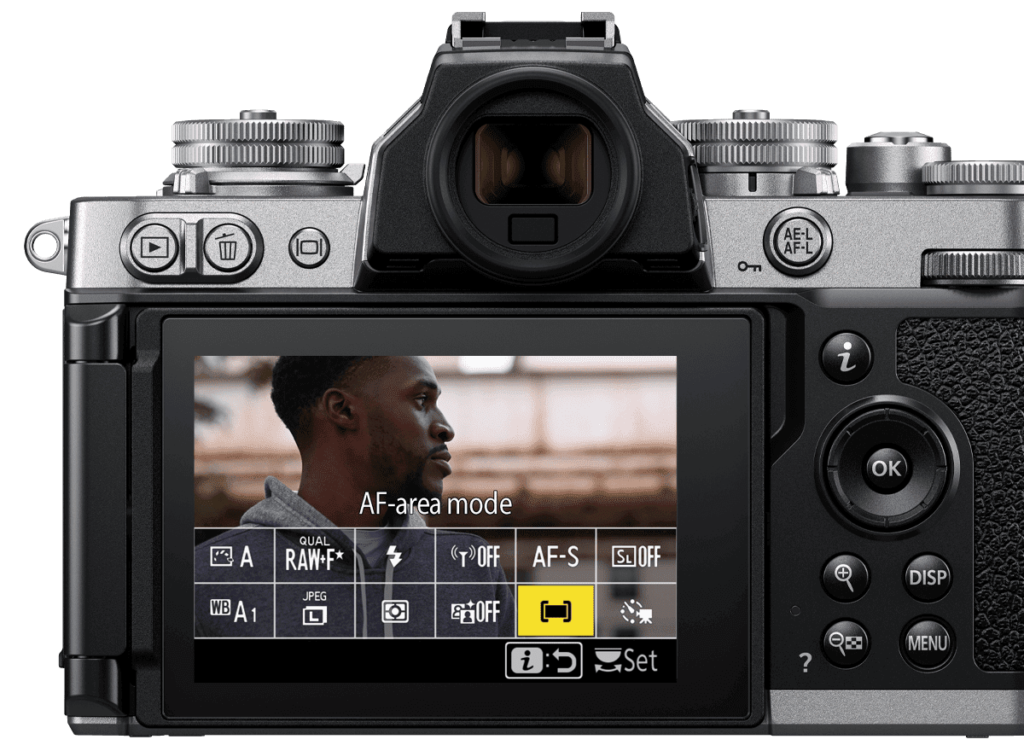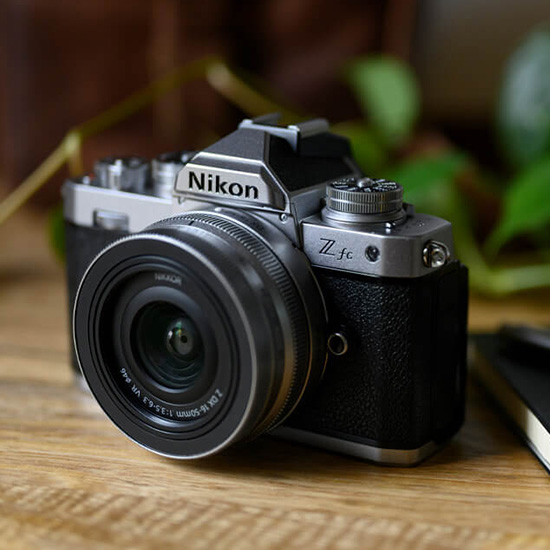 NIKKOR Z DX 16-50mm f/3.5-6.3 VR - Silver
Compact and lightweight thanks to its retractable-lens mechanism so it's your ideal walk-around lens. Capable of shooting wide-to-normal angle images—everything from landscapes to street scenes to portraits all captured clearly with 4.5 stops of Vibration Reduction. Plus a classic silver finish to match the Z fc.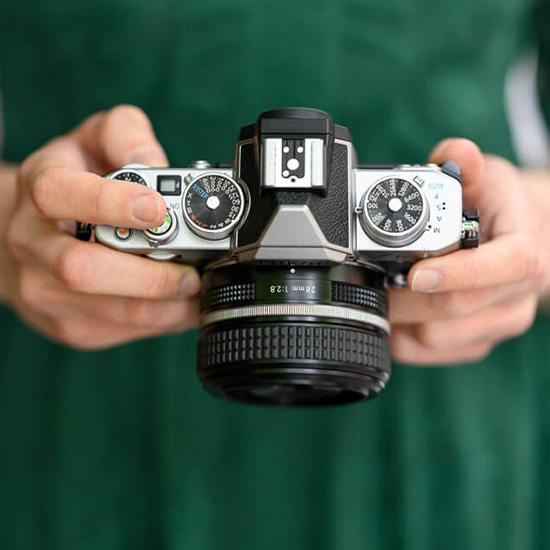 NIKKOR Z 28mm f/2.8 (SE)
With a design inspired by the manual focus lenses used when the Nikon FM was released, this special edition lightweight, ultra-compact, fast prime completes the look of the Z fc. Take it everywhere and capture spontaneous moments anytime of day.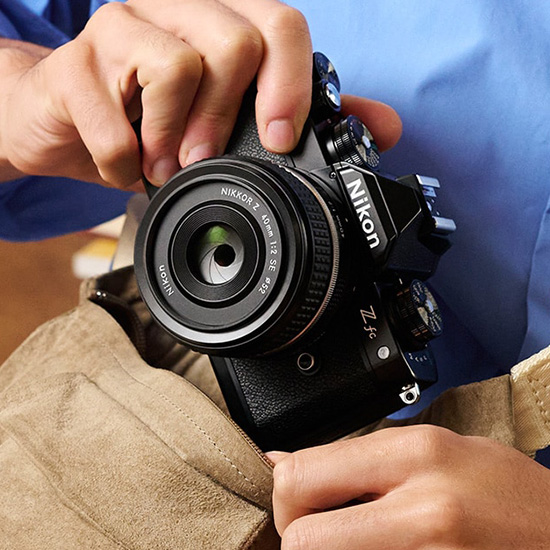 NIKKOR Z 40mm f/2 (SE)
At home on the Z fc, the popular 40mm f/2 adds a vintage look. Featuring checked knurling, contrasting silver band, retro NIKKOR logo and typeface, all with the versatile 40mm field of view (60mm on the Z fc), fast f/2 maximum aperture and natural soft bokeh.